The production is focused on the production of castings from cast iron with lamellar graphite and spheroidal graphite cast iron, steel castings and artistic castings from various materials. We adapt appropriate techniques to the used materials to ensure their long-term quality.
Melting aggregates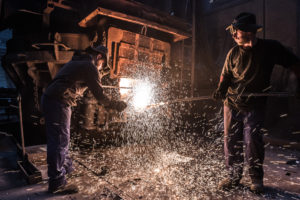 Steel and ductile iron castings
Two electric arc furnaces – each with a capacity of max. 6 tons.
Medium frequency induction furnace – capacity of 0.5 tons.
Max. weight:
Steel castings – max. 12 tons
Castings of ductile iron – max. 10 tons
Grey iron castings
Two cupola furnaces – capacity of 12 tons / hour.
Moulding

Hand-moulding shop
Self-hardening moulding mixtures
Regeneration of moulding mixture (3 tons per hour)
Frame sizes:
 4 000 x 2 500 max.
Ø 3 500 max.
6 000 x 8 000 caisson
Casting weight: 50 – 12 000 kg
Binders: Furan
Machine moulding shop
Bentonite moulding mixture
Frame size: 800 x 100 (300+300)
Casting weight: 5 – 200 kg
The machine moulding is done on the impulse moulding line GEORG FISHER, type GA 223 with a maximum output of 30 moulds per hour.
Binders: Bentonite
Cleening shop
Removing risers and sprues
Pneumatic grinders
Electric grinders
Steel castings
cutting with oxy-acetylene torch and grinding
We use grinding manipulator "ANDROMAT" for the castings grinding.
Casting blasting
Water chamber blaster
Tumble blaster (3x)
Chamber blaster (2)
Heat treatment
3 gas car-type furnaces
Homogenization (1100 °C)
Normalization
Tempering
Roughing
Three vertical turning lathes with max. diameter of 3 m
Producer: ČKD BLANSKO
One horizontal boring machine with rotating table with max. diameter 2m × 2m
Producer: TOS VARNSDORF
Melting
We produce the fluid metal in the traditional manner in electric arc furnaces.
During the production of medium-alloy steel, high-alloy steel and COR 13,4 steel proceed we according to the applicable regulations.