ERNST LEOPOLD OBTAINED TISAX® CERTIFICATION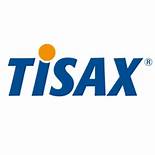 Ernst Leopold obtained the TISAX® certification at the end of 2022. It is a security standard guaranteeing the trustworthiness of the organization and its ability to protect the information of partners from the automotive industry.
"I believe that we are the very first company in the Czech Republic in the automotive tool preparation segment that obtained this certification," stated Zdenek Tuzicka, CEO of Ernst Leopold, and added, "Thanks to this certification, we can prove to our partners and customers that our company takes a responsible approach to data and information protection. We are thus able to meet the highest requirements in information security."
The TISAX® (Trusted Information Security Assessment Exchange) certification was created based on the requirements of the automotive industry representatives for a systematic and trustworthy assessment of the information security of partners. The reason was the growing amount and importance of sensitive information that individual parties in the automotive industry exchange with each other.
The undoubted advantages include gaining the trust of existing business partners, both customers and suppliers, keeping pace with the competitors and establishing effective contact with new customers. The certification obtaining is important for Ernst Leopold primarily because of the cooperation with customers from the automotive sector.
©2023 Ernst Leopold s.r.o. Processing of personal data Cookies settings
Vyrobil